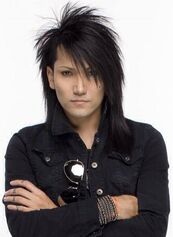 Ashley Purdy (born January 28th, 1984) is the bassist/backup vocalist of Black Veil Brides. He had been in many bands before, and is the oldest member of Black Veil Brides In addition to this, he has his own fashion line named Ashley Purdy Fashion Inc.
Early Life
Edit
Ashley Abrocket Purdy was born in Berger, Missouri and was raised by his grandparents after his parents died when he was young. Unlike most of the other Black Veil Brides members, he was never bullied and was actually considered 'cool' for being different. He would frequently get kicked out of his art classes. He lived in a small town in Missouri until his 18th birthday and moved to Los Angeles in order to become a graphic designer, musician, or singer.
Before joining Black Veil Brides, he created three bands named Orgasm, Children of the Beast (Motley Crue tribute band), and Stolen Hearts.
Black Veil Brides
Edit
Ashley was contacted by Andy via Craigslist and was asked if he wanted to join Black Veil Brides.
Personal Life
Edit
Ashley is 5'11. He loves drinking Jack Daniels and Coldcock, which are two brands of whiskey. His only known girlfriends have been Nikki Benz, Kina Tavarozi. Nikki and Ashley were together for a brief period of time, but Kina and Ashley were together much longer and are still close friends today.
Ad blocker interference detected!
Wikia is a free-to-use site that makes money from advertising. We have a modified experience for viewers using ad blockers

Wikia is not accessible if you've made further modifications. Remove the custom ad blocker rule(s) and the page will load as expected.