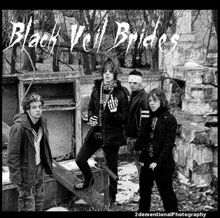 Chris Riesenberg was the drummer of Black Veil Brides in 2006. He was one of the founding members of the band along with Andy Biersack, Johnny Herold, Phil Cenedella, and Nate Shipp.
Ad blocker interference detected!
Wikia is a free-to-use site that makes money from advertising. We have a modified experience for viewers using ad blockers

Wikia is not accessible if you've made further modifications. Remove the custom ad blocker rule(s) and the page will load as expected.