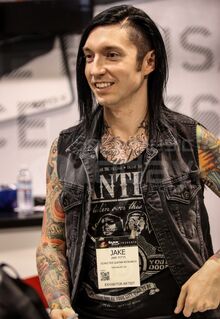 Jake Pitts
 (born 
Jacob Mark Pitts
; August 21, 1985) is an American guitarist, songwriter, producer, and engineer best known for being the lead guitarist of
Black Veil Brides
.
[1]
Early Life
Edit
During his early life, Jake grew up in Idaho. He has an older sister, Sarah Pitts-Lowry, who has two children, named Aiden and Minka. His mother's name was Carolyn and his father's name is Mark.
Growing up Jake had no friends and was a quiet person. He was picked on and laughed at when he said he wanted to be a rock star in the future. In order to cope with the bullying and have something to focus on he would go home and practice guitar.[2] he is hot
Black Veil Brides
Edit
Jake joined Black Veil Brides in November of 2009 and plays lead guitar.
Personal Life
Edit
Jake's mother, Carolyn, passed away on January 18, 2014. A song named Carolyn was written by Andy in honor of her and was featured on We Stitch These Wounds.
Relationships
Edit
He is married to Inna Logvin Pitts. They live in Los Angeles. Together, they have a dog named Ernie. They are owners of clothing brand Be Real & CO. Also they created a band Aelonia, where Jake plays guitar and sings.
His personal awards while being in the band include:
Best Guitarist "Jake Pitts" - Revolver Golden Gods 2012
Best Guitarists 2012 - Revolver Golden Gods 2012 (along with Jinxx)
Guitarists of the Year 2013 - AP Magazine
Social Media
Edit
Youtube: https://www.youtube.com/user/JakePittsBVB
Facebook: https://www.facebook.com/officialjakepitts
Instagram: https://instagram.com/jakepittsbvb/
Twitter: https://twitter.com/jakepittsbvb
References
Edit
Ad blocker interference detected!
Wikia is a free-to-use site that makes money from advertising. We have a modified experience for viewers using ad blockers

Wikia is not accessible if you've made further modifications. Remove the custom ad blocker rule(s) and the page will load as expected.