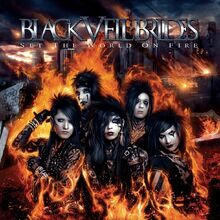 Rebel Love Song
is
Black Veil Brides
's fifth single, written by
Andy Biersack
,
Ashley Purdy
,
Jake Pitts
,
Jinxx
and Luke Walker for the album
Set The World On Fire
. It was released on August 22, 2011, and a music video  was released on October 19, 2011 (explicit version released on November 1, 2011). A short teaser had been previously released on October 3, 2011, and a 6 minute long director's cut came with the
Rebels
EP on iTunes. The song also won Alternate Press's Music Video of the year in 2011, and the Kerrang! Award for Best Single in 2012.
"The song is about the idea of finding something that you can run to, about making that Utopian society in your head and doing what you can to bust out and get there." -Andy
I cannot hide what's on my mind
I feel it burning deep inside
A passion crime to take what's mine
Let us start living for today

Never gonna change my mind
We can leave it all behind
Nothing's gonna stop us
No, not this time

So, take your hand in mine
It's ours tonight
This is a rebel love song
Hearts will sacrifice
It's do or die
This is a rebel love song

My outlaw eyes have seen their lies
I choke on all they had to say
When worlds collide what's left inside
I hold on tight and hear you pray

Never gonna change my mind
We can leave it all behind
Nothing's gonna stop us
No, not this time

So, take your hand in mine
It's ours tonight
This is a rebel love song
Hearts will sacrifice
It's do or die
This is a rebel love song

Wild and running for one reason
They can't stop us from our freedom
Wild and running for one reason
They can't stop us from our freedom

Never gonna change my mind
We can leave it all behind
Nothing's gonna stop us
No, not this time

So, take your hand in mine
It's ours tonight
This is a rebel love song
Hearts will sacrifice
It's do or die
This is a rebel love song

Take your hand in mine
It's ours tonight
This is a rebel love song
Hearts will sacrifice
It's do or die
This is a rebel love song
Music Video
Edit
Lyric Video
Edit